MLB Awards Round-Up: Six Gwinnett Alums Honored in 2021
Three alums win Rawlings Gold Glove Awards®, four earn Silver Slugger, four named to All-MLB Team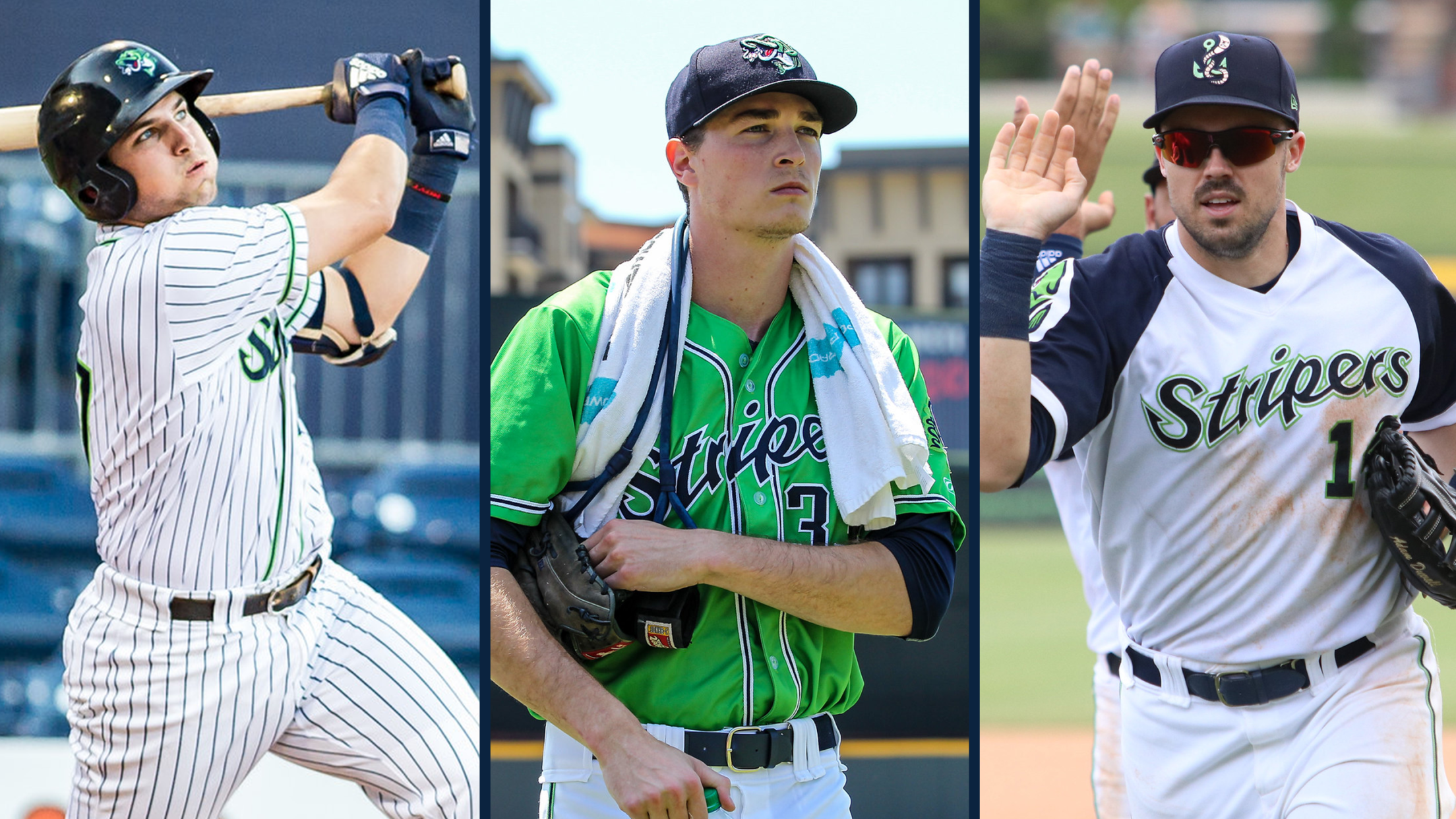 Left-to-right: Austin Riley (photo: Will Fagan), Max Fried (photo: Karl L. Moore), Adam Duvall (photo: Matthew Caldwell)
As November concludes, so too does Major League Baseball's awards season. The month began with the Atlanta Braves hoisting baseball's most coveted prize of all on November 2, the Commissioner's Trophy for the World Series champion. Atlanta's 26-man roster for the title-clinching 7-0 win at Houston in Game 6 included
As November concludes, so too does Major League Baseball's awards season. The month began with the Atlanta Braves hoisting baseball's most coveted prize of all on November 2, the Commissioner's Trophy for the World Series champion.
Atlanta's 26-man roster for the title-clinching 7-0 win at Houston in Game 6 included 22 former Gwinnett players: Ozzie Albies, Ian Anderson, Orlando Arcia, Johan Camargo, Jesse Chavez, Travis d'Arnaud, Tucker Davidson, Adam Duvall, Freddie Freeman, Max Fried, Terrance Gore, Guillermo Heredia, Luke Jackson, Dylan Lee, Chris Martin, Tyler Matzek, A.J. Minter, Charlie Morton, Austin Riley, Eddie Rosario, Dansby Swanson, and Kyle Wright.
The winning didn't stop there, however, as six Gwinnett alums collected individual awards after the season. Here is a recap:
Duvall, Fried win NL Gold Glove Awards®
On November 7, two Braves – right fielder Adam Duvall and pitcher Max Fried – were named Rawlings Gold Glove Award® winners for the National League.
Duvall has collected many an award for his power bat over the years, including an International League Postseason All-Star nod during his 2019 season with the Stripers when he hit .266 with team records for home runs (32), RBIs (93), slugging percentage (.602), and OPS (.965). In 2021, he was finally recognized for his stellar defense, thanks to a .992 fielding percentage and seven outfield assists in 77 games in right field between the Braves and Miami Marlins. According to the MLB.com article, Duvall led NL right fielders with nine defensive runs saved. By the end of the regular season he had successfully transitioned to center field for Atlanta, where he did not have a single error in 22 games.
To the window, to Duvall!@aduvall123 | #BattleATL pic.twitter.com/8cHvTy6tec

— Atlanta Braves (@Braves) October 21, 2021
Fried was tabbed the best fielding pitcher in the NL for the second consecutive season, notching a .978 fielding percentage along with eight pickoffs in his 28 starts. According to the MLB.com article, he leads all MLB pitchers with 16 defensive runs saved since the start of 2019. The lefty who threw 6.0 scoreless innings for the win in Game 6 of the World Series is just three seasons removed from his last stint in Gwinnett (13 starts in 2018).
Pache wins MiLB Gold Glove Award®
Rawlings also issues Gold Glove Awards® to Minor League players each year. Gwinnett center fielder Cristian Pache was one of two Braves farmhands selected to the exclusive list, joining High-A Rome outfielder Michael Harris II.
Pache has been regarded as one of the best defenders in MiLB for the last several seasons and now has the hardware to back it up. The 22-year-old delivered many moments for the Stripers' highlight reel in 2021, posting a .960 fielding percentage and three outfield assists in 79 games in center field. He also played seven errorless games and recorded three outfield assists at the corner outfield spots for Gwinnett.
Freeman, Albies, Riley, Fried win NL Silver Slugger
On November 11, MLB recognized the top hitters at each position for both leagues in the annual Silver Slugger Awards. The Braves led all teams with four winners in 2021: first baseman Freddie Freeman, second baseman Ozzie Albies, third baseman Austin Riley, and pitcher Fried. Freeman (third) and Albies (second) had each won Silver Slugger Awards in the past, while Riley and Fried were first-time recipients.
Coming off an MVP season in 2020, Freeman was again one of the NL's most consistent hitters, finishing eighth in batting (.300) and ranking among the circuit's top 10 in runs (1st, 120), hits (2nd, 180), walks (3rd, 85), on-base percentage (3rd, .393), and total bases (6th, 302). Albies was also all over the NL leader-board in a career-best campaign, ranking in extra-base hits (2nd, 77), doubles (3rd, 40), triples (T-3rd, 7), RBIs (T-3rd, 106), runs (4th, 103), total bases (4th, 307), stolen bases (T-6th, 20), and hits (9th, 163). Fried hit .273 and led all NL pitchers in total hits (15) as he became the first Braves pitcher to win Silver Slugger since Mike Hampton in 2003.
The 24-year-old Riley was the true breakout star of the group, earning a Silver Slugger just two seasons removed from his last stint with the Stripers (44 games in 2019). Riley led the Braves and ranked sixth in the NL with a .303 average, and also finished among the league's top 10 in RBIs (2nd, 107), total bases (2nd, 313), hits (3rd, 179), extra-base hits (T-7th, 67), slugging percentage (8th, .531), homers (10th, 33), and OPS (10th, .898).
AUSTIN RILEY 3:16 SAYS THIS GAME IS OVER!@austinriley1308 | #BattleATL pic.twitter.com/TdE1FJLK8t

— Atlanta Braves (@Braves) October 17, 2021
Riley, Freeman, Albies, Fried named to All-MLB Team
Awards season wrapped up on November 23 with the announcement of the third-annual All-MLB Team. In a vote that gives equal voice to fans and baseball experts alike, four former Gwinnett players were chosen as the best-of-the-best at their positions in 2021.
Riley was the lone selection to the First Team, while Freeman, Albies, and Fried were all named to the Second Team. Atlanta's four All-MLB selections were tied for second-most behind the Los Angeles Dodgers with five. It is the first career All-MLB nods for Riley and Albies, while Fried is a second-time winner and Freeman wins for the third straight season.