Fried dominates on mound for Gwinnett
No. 7 Braves prospect fans season-high 11 over seven frames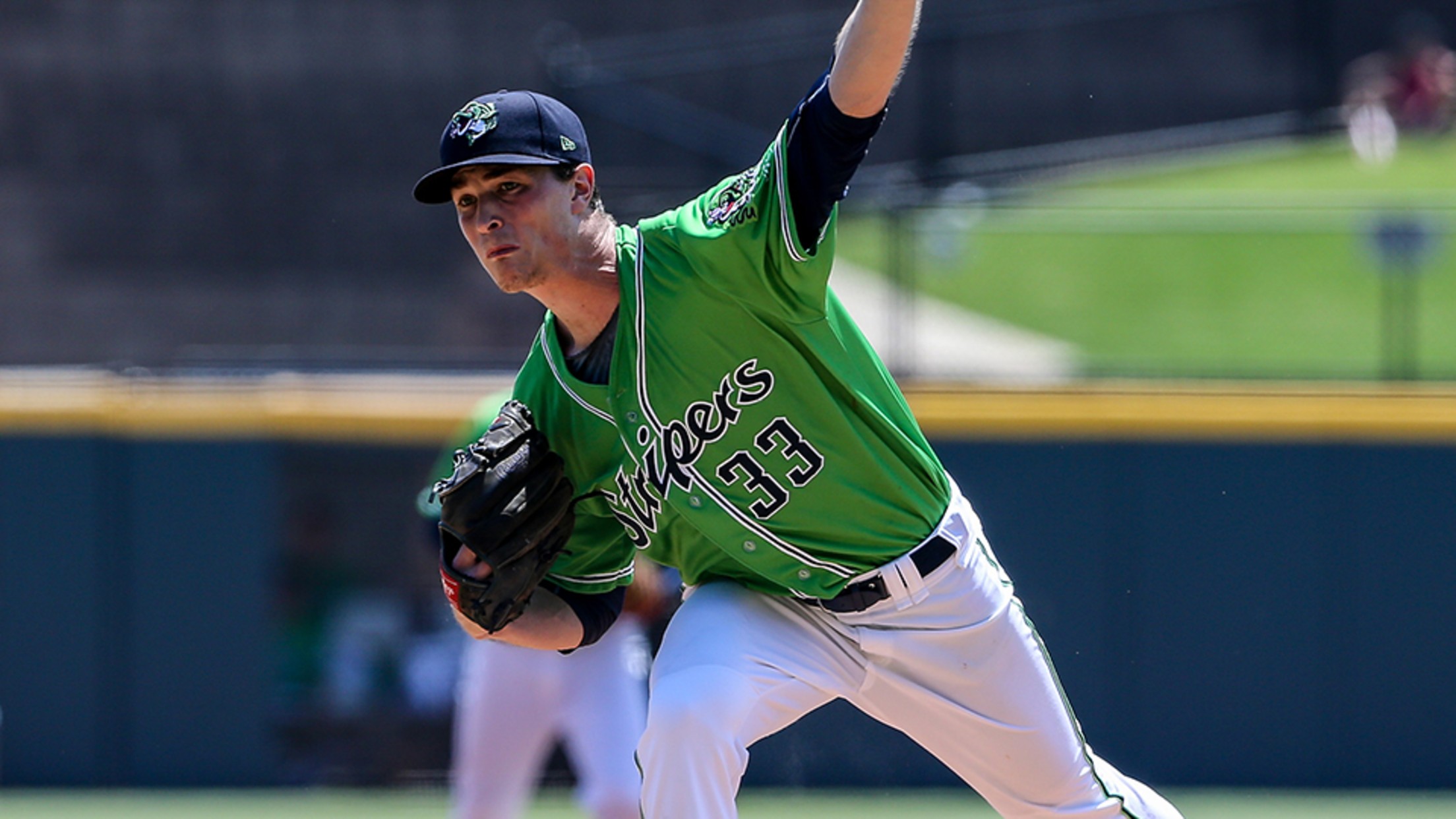 Max Fried hadn't thrown seven innings in a start since April 25 last season with Double-A Mississippi. (Karl L. Moore/Gwinnett Stripers)
Having bounced back and forth from the Majors -- and from the rotation to the bullpen and back -- Max Fried hasn't had an opportunity to settle into a role in 2018. But now back as a full-time starter with Triple-A Gwinnett, he brought dominating stuff to Wednesday's start. The seventh-ranked
Having bounced back and forth from the Majors -- and from the rotation to the bullpen and back -- Max Fried hasn't had an opportunity to settle into a role in 2018. But now back as a full-time starter with Triple-A Gwinnett, he brought dominating stuff to Wednesday's start.
The seventh-ranked Braves prospect fired a regular-season-high 11 strikeouts, allowing one run on three hits over seven innings in Triple-A Gwinnett's 10-2 victory over Norfolk at Harbor Park. Matching the longest start of his career, Fried did not walk a batter for the first time this season.
"I just wanted to get into good rhythms, attack the zone," Fried said. "I had really good command of my curveball today, so I was able to throw that and keep [Norfolk] off-balance. Between me and my catcher [Sal Giardina], we have a good rapport and we're going back and forth. We were working really good together."
MLB.com's No. 76 overall prospect began the season with Double-A Mississippi before earning a promotion to the Stripers a week later. On April 24, he earned a call-up to the parent club.
Over the next month-plus, he rode the shuttle back-and-forth between Triple-A and the Majors, being optioned back to Gwinnett three times between his call-up date and late May. After four relief appearances with the Braves, Fried earned his shot in a spot start in the first game of a twin bill against the Mets on May 28, when he allowed two runs (one earned) over five innings.
Gameday box score
It hasn't been the easiest adjustment going up and down early this season, but Fried has learned plenty from his experiences with the Braves.
"It's definitely a challenge, but it's something I accept completely," he said. "I want to help the big league team at any position or level that I can. If it's starting up there or in the bullpen, I want to be up there helping them win. There's no real gripe with [changing roles]. For me, it's making the most of every opportunity I get on the mound and trying to just get better."
Sent back to Gwinnett after the doubleheader, Fried allowed just one run over five innings at Louisville in his next appearance before yielding a season-high seven runs in five frames against Lehigh Valley on June 7.
Back in a groove Wednesday afternoon, however, the 24-year-old tossed 66 of 96 pitches for strikes and did not issue a free pass in a start for the first time since last Aug. 30. It was the first start of five or more innings without a walk since June 23, 2016, when he was pitching for Class A Rome.
Having the feel to snap off a consistent breaking ball proved to be more than beneficial in Wednesday's outing.
"It makes things easier," Fried said. "It's staying on the attack and keeping them off-balance -- that's just my main goal. Trying to keep them off-balance just enough so I can get the outs and get the team back in the dugout. We had a nice lead so I was just trying to get the team back in the dugout as quickly as possible."
After a scoreless first inning, the left-hander faced trouble in the second when Garabez Rosa doubled with two-outs and Mike Yastrzemski followed with an RBI single. Fried limited the damage when he got Adrian Marin to bounce out to short.
Fried didn't allow a hit the rest of the way, setting down 15 of the final 17 hitters he faced. Punctuating his stellar afternoon, he struck out the side on 11 pitches in the seventh. Fried's 11 strikeouts were the most he's had in the regular season and two behind the career mark he set in the 2016 South Atlantic League playoffs.
"We had a pretty long layoff towards the end there -- there were a couple of times there where we scored a bunch of runs and had long innings," Fried said. "My main focus going out there was throwing strike one. I was getting out there and getting ahead. I was mixing up my pitches, reading swings to get through it. I got to two strikes and was just trying to make good, quality pitches. I didn't want to get too big outside of myself. I had been throwing the ball pretty good all day, so I didn't want to do more."
Through eight starts in Triple-A this season, Fried sports a 4.23 ERA and is third on the Gwinnett staff with 39 strikeouts. Whether he's in the Minors or with the big club, the California native just wants to remain consistent.
"I'm just going to go out there and do the same thing that I did today," Fried said. "The results might not be the same as they were today, but just try and go out there and be the same guy I was today. Trying to keep that consistent, day-in and day-out mentality and attitude. Hopefully the results will take care of themselves."
On the offensive side, Giardina and Michael Reed both went deep as Gwinnett collected 14 hits in the victory.
Andrew Battifarano is a contributor to MiLB.com. Follow him on Twitter, @AndrewAtBatt.