Around the Minors: The week of Aug. 22-28
Sights and sounds from action across Minor League Baseball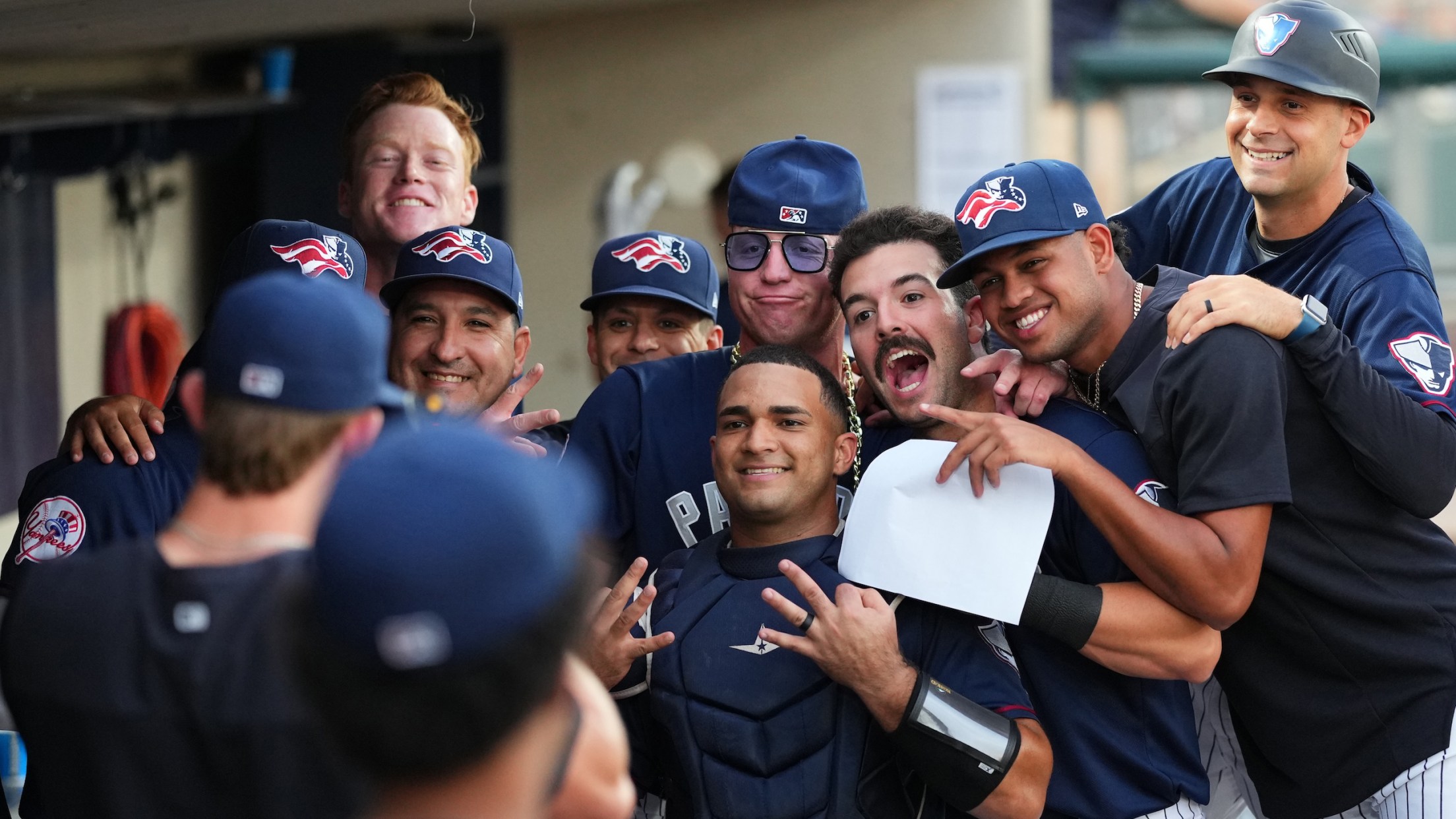 Members of the Somerset Patriots, the Yankees' Double-A affiliate, pose for a picture in the dugout. (Evan Yu/MLB.com)
Aug. 28
Rallying to a crown
Even though the ACL Giants Black finished with the circuit's best record of 37-17, taking home the championship wound up becoming a come-from-behind effort in the decisive Game 3.
The Giants Black dropped the first game of the series and fell behind three different times in the clincher before walking off to victory over the Rockies to claim the crown.
The Giants Black loaded the bases with no outs, and Dilan Rosario ripped a three-run double to center field to put his team up by two. But the Rockies struck back in the top of the ninth, but the Giants Black weren't about to go down quietly, though. A walk by Mauricio Pierre and a single from Andrew Kachel put the winning run in scoring position. P.J. Hilson delivered a walkoff single to lift the Giants Black to the title.
The team had finished 2.5 games ahead of the Rockies in the regular season. The Giants Black's pitching staff paced the circuit with a 2.82 ERA in the regular season, and they used that strength in the clincher -- five hurlers combined to hold the Rockies to five runs (three earned) on eight hits and two walks. Box score
Making his case
Top Orioles prospect Gunnar Henderson snapped a 1-for-16 slump with a three-hit performance in Triple-A Norfolk's 9-2 win over Jacksonville. Baseball's No. 2 overall prospect cranked a leadoff triple and rattled off two more singles while adding an RBI and a run scored.
The 21-year-old smacked the fifth pitch of the game out to center field for his first three-bagger since July 12 before singling to right in the third frame and coming around to score two batters later. He connected on another base knock to right in the fourth before capping off his night with a sacrifice fly in the eighth.
Henderson is batting .256/.362/.436 over his last 10 games with a dinger, eight RBIs and six walks. Though the lefty slugger has overall been having a strong campaign in Triple-A -- a .282 average with a .888 OPS with 28 extra-base hits -- is it enough to warrant a September callup? Orioles vice president and general manager Mike Elias had this to say:
"We are watching everything he is doing carefully," Elias said. "And having ongoing conversations about when and how he might factor into that in 2022, but no decisions have been made. But it's obviously something we are monitoring and very pleased where he is at as a 21-year-old that started the year in Double-A."
The Chaser, not the one being chased
Right-hander Chase Silseth hit a new gear of dominance in his latest Double-A start.
The Angels' No. 7 prospect struck out a season-high 11 batters through six innings in the Trash Pandas' 8-3 win over the Smokies, taking a perfect game into the fourth inning before yielding two solo shots and a walk as the sole blemishes to his start.
Silseth, whose season ERA fell to 2.63, flashed his elite pitch mix in the outing, relying on his curveball as a putaway tool and playing it well off a fastball that tops out at 96 mph.
Who needs nine innings?
Seven frames were all L.J. Jones needed for a career day.
The Cardinals prospect homered, doubled three times and drove in eight runs for the High-A Peoria Chiefs in a rain-shortened 14-1 win over Beloit. The doubles and RBIs set career highs for the 2020 fifth-round Draft pick.
Jones got Peoria on the board in the first inning with a two-RBI double, his 30th of the season. His 12th home run of the year was a grand slam in the second inning that put the Chiefs ahead 7-0, and a second two-RBI double made it 9-0 in the fourth.
The eight RBIs tied a Chiefs single-game record. Jones has driven in a total of 57 runs in 91 games this season.
Crowning the first champ
The Florida Complex League Yankees just kept coming this year.
New York's Rookie-level squad claimed the title by beating Tampa Bay's in the decisive third game of the FCL Championship Series by a one-run margin after dropping a back-and-forth battle in Game 2.
The Yankees' 38-17 record was second only to that of the Rays, who were 39-16 in the regular season, and they stormed into the playoffs with an 8-4 semifinals win over the Red Sox and an emphatic 7-2 win in the opener of the Championship Series.
In the clincher, Omar Martinez socked a ground-rule double in the top of the second and scored the game's first run en route to a two-hit afternoon, and Felix Negueis singled, walked and scored three times for the Yankees. Agustin Ramirez, who led the league with 51 RBIs and 85 total bases, contributed a base knock.
Right-hander Sebastian Perrone was the victor, fanning two and allowing a walk and a hit over 2 2/3 innings of relief. Fellow righty Nolberto Henriquez earned the save with two no-hit, no-walk frames, recording a strikeout along the way.
Cue up the Sinatra.

The Rookie-level Yankees tied a bow around their remarkable Florida Complex League season by taking home the title.https://t.co/pFxF9kYywF pic.twitter.com/WtCe6WMkX3

— Minor League Baseball (@MiLB) August 28, 2022
Carroll's coming up!
It turned out to be a rapid rise for outfielder Corbin Carroll after all, as the D-backs plan to call up their top prospect from Triple-A Reno for his expected big league debut Monday night against the Phillies at Chase Field, a source told MLB.com. The club has not confirmed the move.
Carroll was selected out of Lakeside High School with the No. 16 overall pick in the 2019 Draft, and though he was young the D-backs thought he could move through their system quicker than most.
Consider that the COVID-19 pandemic wiped out the 2020 Minor League season (he participated at the team's Alternate Training Site) and shoulder surgery robbed him of all but nine games of the 2021 season, and it makes the speed of his rise all the more impressive.
Carroll opened this season with Double-A Amarillo, where he hit .313/.430/.643 and earned a midseason promotion to Reno. The jump in level didn't slow Carroll down at all, as he was hitting .287/.408/.535 at Reno when he got the call to the Major Leagues. Full story »
After hitting 24 homers and stealing 31 bases in the Minors this year, Corbin Carroll is headed to The Show!

The D-backs are expected to promote baseball's No. 3 prospect for his MLB debut on Monday: https://t.co/ERvv611k6e pic.twitter.com/qrThQZyDd1

— Minor League Baseball (@MiLB) August 28, 2022
Aug. 27
Say it ain't so, Francisco
Francisco Álvarez, ranked by MLB Pipeline as the top prospect in baseball, is in jeopardy of missing significant time due to a right ankle injury, according to a source briefed on the situation. A second source acknowledged the injury but called the idea of Álvarez missing the rest of the season "premature." He will undergo testing in New York in the coming days to determine next steps.
The 20-year-old catcher has not played since Tuesday due to ankle discomfort. Before that, Álvarez had established himself as one of the most productive power hitters in the upper Minors, smashing 24 homers in 99 games split between Double-A Binghamton and Triple-A Syracuse.
Had Álvarez remained healthy, he would have merited at least outside consideration as a September callup for the Mets, perhaps in a DH role down the stretch or in the postseason. That's now far less likely given his injury. It is unclear at this time if surgery is an option for Álvarez's issue. Full story »
30 ... with an exclamation point!
Triple-A Albuquerque has been hitting a lot of home runs lately. Michael Toglia was the latest player to join the long ball party with a milestone performance on Saturday that not only secured a pair of personal records, but a team mark as well.
Colorado's No. 14 prospect clubbed the first three-homer game of his career and reached the 30-homer plateau for the first time in Albuquerque's 18-7 loss to visiting Round Rock. His first home run marked the 17th consecutive game an Isotope has gone deep, establishing a franchise record.
And perhaps best of all? Toglia was able to keep the ball from his third jack, courtesy of right-hander Joel Peguero.
"It was really special to me," Toglia said of completing the feat. Full story »
Dominguez goes fourth
Jasson Domínguez continued to cement himself as one of the best young prospects in the game, reaching a personal milestone for the first time.
The No. 2 Yankees prospect collected a career-high four hits, scored three runs and drove in another to lead High-A Hudson Valley past visiting Hickory, 15-1. Dominguez is enjoying an especially strong August, slashing .337/.451/.506 in 86 at-bats.
Overall, the 19-year-old is up to .277 with an .832 OPS, 39 extra-base hits, 51 RBIs and 34 stolen bases in 106 games across two Minor League levels.
Oh so close
The home run and triple are considered the most difficult quarters of the cycle to obtain, but Will Brennan had them in his back pocket by the fourth inning of Triple-A Columbus' eventual 8-2 win over Buffalo.
Ultimately, the Guardians' No. 21 prospect fell a double shy of the milestone but he led the Clippers with three hits and five RBIs in the win. Elsewhere in the lineup, Cleveland's sixth-ranked prospect Nolan Jones, back from two months in the Majors, recorded three hits and clocked his sixth home run of the year.
Brennan's blast was also his sixth since his promotion from Double-A Akron in late May. He put Columbus in front 2-1 with the drive to right field in the third inning then broke the game open with a bases-clearing triple in the fourth. The 24-year-old is hitting .311 with an .827 OPS in 73 Triple-A games.
Fitts-ing in like a glove
In a game that featured 15 runs on 24 hits from High-A Hudson Valley, Richard Fitts nearly had the pitching performance of a lifetime. The right-hander hurled seven perfect frames and finished the contest with one run allowed on two hits while striking out seven across eight innings in the Renegades' 15-1 win over Hickory.
The 22-year-old had never pitched more than 6 2/3 innings prior to the contest, but it was clear he was in it for the long haul when he retired the side on just eight pitches in the first. He threw no more than 12 pitches through the first seven innings and never ran a three-ball count on a batter.
After struggling the first four months of his professional career, Fitts has pitched to a 0.87 ERA in his first three High-A starts with 21 strikeouts, a .155 batting average against and a 0.58 WHIP.
By Jobe, he's got it!
Tigers No. 1 prospect Jackson Jobe (No. 41 in MLB Pipeline's Top 100) put his high-spin slider to the test against High-A hitters for the first time Saturday night and looked right at home for West Michigan, allowing a solo homer among four hits over five innings with a walk and three strikeouts against the South Bend Cubs.
Jobe, who was promoted from Single-A Lakeland last week, showed no signs of the back soreness that delayed his Whitecaps debut by a few days. While his fastball -- a pitch he has worked on since Spring Training -- topped out at 96 mph according to the LMCU Ballpark radar gun, his slider buckled hitters for much of the outing. Jobe induced 11 swings and misses out of 67 pitches. Three came against Cubs top prospect Pete Crow-Armstrong, who struck out in the third inning on a fastball, changeup and slider. Crow-Armstrong and Cubs No. 2 prospect Brennen Davis, currently on a rehab assignment from Triple-A Iowa, went hitless against Jobe, who used his slider to finish off two of his three strikeouts.
The Tigers hope to get a couple more outings from Jobe, the third overall pick in the 2021 MLB Draft, before his first pro season ends. He went 2-5 with a 4.52 ERA in 18 starts for Lakeland before his promotion but showed steady improvement as his season went on.
Aug. 26
How to make a cycle even cooler
The 2022 season has been nothing short of a whirlwind for James Outman. He started the year in Double-A, made his Major League debut with the Dodgers in July, homered in his first at-bat and was optioned back to Triple-A six games later.
But in a season full of firsts, Los Angeles' No. 13 prospect still had two feats he had yet to accomplish: a cycle and a walk-off home run. With one swing of the bat on Friday, he achieved both.
"I had chills running around the bases," Outman said after sealing his first professional cycle and Oklahoma City's 7-4 win over El Paso with a three-run blast. "Seeing the whole team standing there, getting doused with the whole bucket of freezing water, it's really fun. There are a lot of emotions going through your head, and it's just really fun celebrating with the team." Full story »
Seatbelts, everyone!
It was one of those nights for Single-A Fredericksburg, as the team erupted for 23 runs on 20 hits, and it was one of those performances for Will Frizzell, who contributed three of those knocks -- all of which left the yard.
The Nationals infield prospect clubbed a trio of long balls, while driving in a career-high seven runs and scoring four times to lead the charge as the FredNats flexed to a 23-8 victory over Down East at Virginia Credit Union Stadium on Friday. The seven RBIs marked the second most in a single game by a player in the Carolina League this season.
It's the first career milestone for the Nationals' 2021 eighth-round Draft selection, and the first three-homer game in Fredericksburg's two-year history. Frizzell only posted one other multihomer game in his pro career, and that occurred on Aug. 9 against Augusta.
"It feels good to get my first one ever," Frizzell said. "I feel like I got that feat conquered now. But it was good to just get the barrel on the ball tonight."
Frizzell led off the seventh with a four-pitch walk off of Jackson Leath. He wouldn't spend much time on the basepaths though, as T.J. White lifted his own roundtripper to right-center four pitches later. Frizzell batted again in the frame, and flied out to center again, as the FredNats sent 18 batters to the plate and posted a 13-run inning.
It's your birthday, you can walk-off if you want to!
Birthdays are always a special occasion, but being the reason your team wins a game makes it that much sweeter. Spencer Torkelson enjoyed his 23rd birthday in that exact fashion, smacking a long single in the bottom of the 10th to send the Toledo faithful home happy with a 6-5 win over Louisville.
A celebration didn't appear in the cards for the former No. 1 overall pick through his first three plate appearances, which failed to yield a hit. But an opposite-field line-drive knock in the eighth was the spark the Mud Hens needed, as they knotted the score at 5 and ultimately forced extras.
Torkelson has heated up as of late, having delivered an RBI in three of his last four and in six of his last nine games with Toledo.
Banner day for Bannon
Rylan Bannon did a little bit of everything en route to a career-high eight RBIs for Triple-A Gwinnett. The designated hitter knocked a sac fly to shallow right in the first, a two-run ground-rule double to center in the third and an RBI single to left in the fourth as he showcased his ability to hit to all fields. After tallying four RBIs in the first four frames, Bannon kept it going with an RBI single to right in the sixth before capping his big night with a two-run homer to left-center in the seventh.
The performance comes amid a busy year for Bannon. In May, the Orioles brought up the 26-year-old for his Major League debut. Bannon went 2-for-14 in four games before being optioned to Triple-A Norfolk. Two weeks later, the Xavier product was claimed by the team that took him in the eighth round of the 2017 Draft -- Los Angeles. But before he could suit up for the Dodgers at any level, Bannon was optioned once again and claimed by the Braves on Aug. 16. Since then, the third baseman is 8-for-23 (.348) with three extra-base hits and 11 RBIs in eight Stripers games.
Gwinnett's back-and-forth contest with Lehigh Valley on Friday ended with a 14-13 IronPigs victory. Leading off for the Stripers was Delino DeShields, who scored early and often. The center fielder racked up five runs and only needed two knocks to do it. Instead, DeShields worked four walks and swiped three bases to make an impact at the top of the order.
Dean's grand exit
Austin Dean's first hit of the game would be the contest's last. After Triple-A Sacramento tied it in the bottom of the 10th on a bases loaded walk, the No. 7 hitter stepped up and drilled the first offering to straightaway center to give the River Cats the lead they needed and then some with a grand slam. Sacramento topped Reno, 7-3.
Dean has played for three organizations across all levels of the game, totaling 93 professional homers, but Friday marked just the third grand slam of his career -- and first since 2014.
Whitley robs and lobs
Garrett Whitley got Game 2 of a doubleheader started the best way he could: with a stellar catch in center field to rob Elly De La Cruz of extra bases. Having gone 3-for-4 with a homer and a double in the opener, MLB's No. 15 overall prospect was primed for another knock before the Double-A Biloxi center fielder entered the chat.
And Whitley wasn't done there. In the home half of the frame, the Shuckers' No. 3 hitter cranked a two-run homer to right for his sixth long ball of the season.
Aug. 25
South Bend slugger
Jordan Nwogu had never hit two home runs in one game in his life (dingers in both ends of a high school doubleheader don't count, he says), so when asked where hitting three homers in one game ranked among the feats he's accomplished on the field in his life, the 23-year-old was quick to answer.
"Number one," Nwogu said without missing a beat.
The Cubs outfield prospect made both personal and team history on Thursday night, swatting three home runs to lift High-A South Bend to a 13-3 win over West Michigan. He added a single and a walk while driving in four runs, also a career high.
Nwogu became the first SB Cub since at least 2005 to notch the homer trifecta.
Clipping a pair of homers
George Valera, the second-ranked Guardians prospect, launched a pair of home runs in Triple-A Columbus' 9-6 victory over Buffalo on Thursday at Sahlen Field. The two solo shots give him four in his first 13 Triple-A games since being promoted from Double-A Akron on Aug. 8. He has also laced three doubles.
The 21-year-old outfielder belted his first homer of the contest in the second inning off Buffalo starter Casey Lawrence, and then blasted his other in the seventh off reliever Kyle Johnston. He also added a single for good measure in the eighth. His three-hit performance on the day raised his average from .227 to .271 since joining Columbus.
It also marked the second multihomer game for MLB's No. 32 overall prospect since joining the Clippers. Full story »
Carroll's colossal clout
Though baseballs are known to travel quite far in the Pacific Coast League, Corbin Carroll probably didn't need any extra help on his 24th homer of the year.
MLB's No. 3 overall prospect demolished a 463-foot moonblast that sailed far over the heads of fans on the berm at Sacramento's Sutter Health Park, landing beyond the trees for Carroll's seventh dinger at Triple-A. The ball was scorched 112.2 mph off the bat.
The lefty slugger took the first two pitches outside from starter Tristan Beck, and the right-hander made the mistake of grooving a get-me-over fastball to one of baseball's most tooled-out prospects. On just the third pitch of the game, the D-backs' No. 1 prospect gave Reno an early 1-0 lead.
A Holliday celebration
Jackson Holliday has collected a hit in all but one game he's played in so far, and in his first Single-A contest, the first overall pick of the 2022 Draft kept up his hitting ways with his first knock at the new level in Delmarva's 7-3 loss to Lynchburg.
After flying out, drawing a four-pitch walk and striking out in his first three trips to the plate, the 18-year-old ripped a 1-1 pitch off righty Sergio Morillo in the sixth inning and drove it to center field, where it one-hopped over the wall for a ground-rule double to put the Shorebirds up 3-2. It's the third extra-base hit through the first nine games for the lefty slugger, who has drawn almost three times the amount of walks (11) as he has strikeouts (four) to start his professional career.
In 26 at-bats, the Orioles' No. 3 prospect (MLB No. 14) is batting .385/.553/.577 with a homer, three stolen bases and five RBIs.
A Patriotic performance
It's a spectacle when a pitcher registers 10 strikeouts, but Matt Sauer went above and beyond for Double-A Somerset.
The second-round (54th overall) selection in the 2017 Draft has been steadily climbing the Minor League ranks, and in just his third start with the Patriots, he made history.
Although his team ultimately fell to New Hampshire, 4-3, in 10 innings, the 23-year-old put on a show. Sauer struck out a franchise-record 17 over eight innings, allowing one run on two hits. It was the highest strikeout total in affiliated ball since 2019 when Reds hurler Randy Wynne whiffed the same amount.
"I never thought a record was on the table at all," Sauer said. Full story »
Holy Toledo!
In an otherwise typical game, Triple-A Louisville elicited some excitement in the seventh inning.
Leading by a run but facing a first-and-second, no-out situation, the Bats made sure their lead remained intact. Toledo's Ryan Kriedler and Josh Lester took off on an 0-1 pitch to Spencer Torkelson. The 23-year-old did his part, ripping a line drive ... right into the glove of Louisville first baseman Colin Moran.
Moran stepped on first for the second out and tossed to second where Spencer Steer was able to complete the triple play. It was the fourth time in franchise history the Bats have turned three, and the first since 2005.
Louisville held on to win, 5-4.
Aug. 24
Hot-hitting Dodger
It's always valuable when your leadoff batter gets on base, even better when he gets on in every plate appearance.
Michael Busch was the man to kick things off in Oklahoma City's 13-8 victory over El Paso.
The Dodgers' No. 4 prospect walked to start the game for the Dodgers and tallied his first hit on a single to left field in the third inning. He followed with a leadoff single to center in the fourth and tacked on another RBI single on a bases-loaded infield knock. The first round (31st overall) selection in the 2019 Draft added a double to right in the seventh for his final hit of the evening.
August has been fruitful for Busch, slashing .274/.337/.452 for the month with four homers, 18 RBIs, nine walks and six multihit games.
Have a day! Or two!
Jordan Westburg had himself a day.
Baltimore's No. 5 prospect was a catalyst for Triple-A Norfolk in its two games, having to complete a suspended game.
In the Tides' 6-3 win over Jacksonville in a game that was suspended on Tuesday, the 30th overall selection in the 2020 Draft hammered two two-run homers to left field. He finished 2-for-5 and matched a career high with four RBIs.
In the second game of the day, the Tides fell 7-6 to the Jumbo Shrimp, but Westburg was still on his game. The 23-year-old went 2-for-2 with two singles, two runs, one RBI, a walk and a hit-by-pitch.
The shortstop is on a seven-game on-base streak, with four multihit games during that span.
A four-gone conclusion
A few nights after hitting his first grand slam of the season, Luis Matos posted another big game for High-A Eugene.
The Giants' No. 3 prospect homered again and hit safely four times in the Emeralds' 5-3 win over Tri-City. The home run was Matos' 11th of the season and 10th with Eugene. He drove in another run on a double in the sixth.
On the mound for the Emeralds, No. 11 Giants prospect Mason Black was untouchable for most of the night, striking out 10 and holding the Dust Devils scoreless until he allowed a two-run home run with one out in the eighth inning. Black holds a 4.32 ERA since his promotion from Single-A.
Seventh heaven
Ken Waldichuk figured he'd take matters into his own hands -- literally -- for a few innings.
The No. 3 A's prospect struck out seven consecutive batters, whiffing the side in the second and third innings before sitting down the first batter in the fourth. Waldichuk finished with nine strikeouts and surrendered one run over five innings in Triple-A Las Vegas' 9-3 win over visiting Sugar Land. It marked his highest strikeout total since he fanned 11 on June 11 for Scranton/Wilkes-Barre.
Waldichuk, who was dealt from the Yankees in the Frankie Montas trade last month, has 137 strikeouts in 95 innings and a 2.84 ERA in 21 starts across three Minor League levels.
Small ball, big score in Northwest Arkansas
More often than not, it takes one team several games to score 18 runs. But in the case of Springfield's matchup with Northwest Arkansas, both Double-A squads combined to tally that total in the seventh inning alone -- and only one ball left the yard.
The game was well within reach entering the seventh frame, with the Cardinals holding onto a 5-0 lead. Second-ranked St. Louis prospect Masyn Winn started the inning off with his 30th double of the year, and the next four batters each rattled off singles to extend Springfield's lead to 9-0. Two walks and three more knocks gave the Cardinals a 14-0 advantage, but the biggest blow was yet to come. Designated hitter Chandler Redmond -- who hit for the home run cycle two weeks earlier -- smacked Springfield's first grand slam of the game in the fifth. Second baseman Nick Dunn slammed the team's second of the contest with one away in the seventh, stretching the score to 18-0. Springfield ultimately collected 11 hits in the frame.
Though the game was all but out of reach at that point, the Naturals wouldn't go down without a fight. The Royals affiliate put up a six spot in the bottom of the seventh, courtesy of five walks, three singles and a sacrifice fly. Springfield ended the contest with 18 runs on 20 hits, while the Naturals scored seven runs on nine knocks, with the help of a CJ Alexander solo dinger in the last of the ninth.
Ain't life grand?
Power out of the nine spot seems to be uncommon, but Joey Wiemer is working prove that theory wrong.
Milwaukee's No. 3 prospect played a large part in Triple-A Nashville's 9-2 win over Durham.
The fourth-round (121 overall) selection in the 2020 Draft began the scoring with an RBI ground-rule double over the right-field wall in the second inning. He had a knack for putting the ball over the fence and followed with a grand slam to left in the fourth. In his third at-bat, the 23-year-old singled to left in the sixth.
The big fly in the fourth was just his second homer with the Sounds since being promoted on Aug. 2. His 17th jack of the season tallied a season-high five RBIs.
Dialing nothing but zeros
After a brief blip on the radar, Tink Hence is back to posting zeros for the Single-A Palm Beach Cardinals.
St. Louis' No. 6 prospect worked four scoreless innings, allowed three hits and struck out four in Palm Beach's eventual 5-4 loss to St. Lucie. It was smooth sailing for Hence, who also touched 98 mph with his fastball.
After allowing three runs in his last start for the first time this season, the right-hander tossed his eighth scoreless outing in 14 total appearances. All told, Hence has allowed just eight earned runs in 44 1/3 innings with an impressive 71 strikeouts to just 12 walks.
Aug. 23
What happens in Vegas...
With his club beginning a road trip in Las Vegas on Tuesday night, it's only appropriate Korey Lee hit the jackpot.
With a final score befitting a football game, the No. 7 Astros prospect left his mark by homering three times and driving in a career-high five runs to power Triple-A Sugar Land past Las Vegas, 23-8 at Las Vegas Ballpark. The Space Cowboys cleared the fences a franchise-record nine times and tallied 21 hits, 12 for extra bases.
Lee became the fourth Sugar Land player to achieve the feat and the second this season. Enmanuel Valdez left the yard three times against Round Rock on June 15. Full story »
What a relief!
Single-A Fayetteville has been caught in a rough patch amidst the dog days of summer, but No. 20 Astros prospect Miguel Ullola was a bright spot in the team's 5-3 defeat to Charleston at SEGRA Stadium.
Ullola, no matter his role, has been something of a strikeout artist for the Woodpeckers this season. He put that on display by whiffing 10 batters over five frames, all without yielding a hit. His bugaboo has been walks, which when combined with a hit-by-pitch in the sixth, led to the lone run on his ledger crossing the dish.
Ultimately, the 20-year-old bowed his neck after the run crossed, striking out seven of the final 11 batters he faced.
Ullola has amassed 100 strikeouts over 61 2/3 frames of work this season. His ERA sits at 3.36, as he has alternated starts and relief appearances recently under a piggyback strategy, and he has delivered a .166 opponents' batting average against.
All the power fit to broadcast
We've seen this script before.
Francisco Álvarez goes through a rough stretch offensively -- as all players do -- before the light bulb turns on, as if he seemingly remembers he's baseball's top prospect.
Perhaps his latest outing was another one of those light bulbs. Homerless in his last 11 games, Álvarez blasted his career high-tying 24th of the season, singled in a pair of runs and walked twice in Triple-A Syracuse's 9-8 win over Worcester.
"Tonight was a good night for him," Syracuse manager Kevin Boles said. "He's working counts. I think he's starting to be a little bit more patient, he was able to get into positive counts tonight and I think that really paid a benefit to him." Full story »
Going on Holliday ... to Delmarva
A torrid debut at the Florida Complex League, which ended Tuesday, has No. 1 overall pick Jackson Holliday ready to join Single-A Delmarva and debut Thursday at home, the Orioles announced. Across eight games in the FCL, Holliday slashed .409/.576/.591 with one homer and 10 walks against just two strikeouts.
With Delmarva, Holliday -- recently ranked as the Orioles' No. 3 prospect per MLB Pipeline -- will join a handful of his fellow Draft classmates, including top picks Dylan Beavers (Competitive Balance Round A, No. 8 prospect), Max Wagner (second round, No. 17 prospect), Jud Fabian (Competitive Balance Round B, No. 25 prospect), Silas Ardoin (fourth round, No. 27 prospect) and Carter Young (17th round, No. 29 prospect), among several others.
Like he never left
Taking his first at-bat in competitive play since a pitch fracture his left thum on July 25, Bryce Harper got back into the swing of things.
A few innings later, he did it again.
Beginning his rehab assignment with Triple-A Lehigh Valley, Harper homered in his first plate appearance, walked twice and then left the yard again, finishing with four RBIs to lead the IronPigs past visiting Gwinnett, 10-5. It was the first Minor League action for the two-time MVP -- and first-ever Triple-A stint -- since 2014.
Harper is expected to continue his rehab with Lehigh Valley through the rest of the week.
Aug. 22
Mega day for Meza
In a Dominican Summer League game featuring 27 total runs, Jose Meza mashed his way to a milestone.
The 19-year-old teed off three times in three straight at-bats and plated six runs as Rookie-level DSL LAD Mega ultimately fell to the DSL Rays, 14-13. Coming into the game with two long balls this year, Meza more than doubled that total while equaling the number he accumulated over 52 DSL games in the 2021 season.
In the fifth inning, his historic performance got off to a grand start as the Dodgers outfield prospect homered to center field with the bases loaded. He went yard again on a solo shot to left field in the seventh, then capped the outburst with another tater to center in the eighth.
Through 50 games this season, Mesa is batting .266/.353/.413 with 41 runs and 35 RBIs.
Surprise! It was a no-hitter!
Jared Pettitte was just finishing up his post-outing routine when Florida Complex League Marlins manager Luis Dorante Sr. told him the news: Pettitte and three other pitchers had combined on a seven-inning no-hitter of the Astros Blue team in a 4-0 victory on Saturday.
Pettitte, who was making a rehab appearance, had tossed a perfect fourth and fifth with a strikeout. It was enough to put him in line to earn his first professional win.
"I don't think anybody really realized it," Pettitte told MLB.com. "I definitely didn't. That's how everybody found out. I don't think anybody actually knew because I don't think they have the hit column up on their scoreboard [at the West Palm Beach, Fla., complex]."
Son of Yankees legend Andy, Pettitte has been working his way back from shoulder trouble that has hampered him during his first full pro season. He pitched through it for two months at Single-A Jupiter, where it affected his command and velo to the result of an 18.00 ERA in eight games. Pettitte has been rehabbing for the past 15 weeks, but the end might be in sight: He hopes to rejoin an affiliate this week. Full story »
First pro W: ✅
Take part in a no-hitter: ✅

Jared Pettitte -- yes, son of Andy Pettitte -- had a very nice day on rehab assignment with the FCL Marlins.

Story: https://t.co/bTkuj5piJJ pic.twitter.com/wVfQ2CELg8

— Minor League Baseball (@MiLB) August 22, 2022
The week that was
There were milestones aplenty across Minor League Baseball last week, when baseball fans were treated to an updated Top 100 Prospects list from MLB Pipeline. There were cycles for Brandon Dixon with San Antonio and Tyler McDonough with Greenville, and Veronica Alvarez earned the win as Lansing's manager, the first woman to do so. Double-A Wichita got its first no-hitter in franchise history, and the Dominican Summer League featured two no-hitters in the same game. At the plate, Triple-A Sugar Land scored 17 runs in a single inning. Last month's top overall Draft pick, Jackson Holliday, notched his first professional homer in the Florida Complex League. With the offseason approaching, the Arizona Fall League schedule arrived as well. Catch up on all the proceedings.